Check out the photo album from days 1 & 2 on our Facebook page here!
The first person I see on a stage at SXSW 2013 is none other than Matt Pinfield, gravel-voiced MTV icon and Limp Bizkit album cameo veteran, who on this early Tuesday evening is holding court at Empire Control Room and introducing an artist of just slightly different temperament: Ashley Monroe, a young trad-country starlet whose new Like a Rose is an Album of the Year candidate (yes, already) for sweetly ribald lopes like the self-explanatory "Weed Instead of Roses," a marital S&M fantasia she performs here with a knowing wink and a crack band (upright bass!) and like 50 hot lights blaring down on her. (We're filming this for something, apparently.) "This wasn't the right gig for a leather dress," she notes cheerily. "At least there are holes in the side. You're welcome."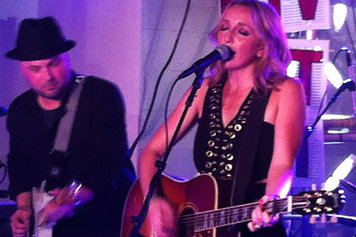 This is a fantastic way to begin this year's bacchanal — as a near-10-year veteran I seem to recall a point when Tuesday was not a huge day for shows and such, but we are fully loaded tonight, huge lines and boisterous crowds and all that. So much so that at first I can't even lay eyes on my next target — the young, moody, incendiary Nashville singer-songwriter Torres, who's way more PJ Harvey than Tammy Wynette. She's in a tiny room at the Mohawk for Pitchfork's big two-stage showcase, mobbed as you might imagine, and so while she's moaning through cathartic early Song of the Year candidate "Honey" I'm in an adjacent room with no sightlines, instead resigned to watching a big-screen TV with the sound off that's showing a Netflix-supplied action movie called Ninja, starring a dude who my companion, an action-movie expert, raves is "the best kicker in contemporary cinema." I can't really argue with this. So: Listening to Torres, watching Ninja. The juxtaposition works incredibly well, actually. And her howling voice is the most violent thing about it.
The Pitchfork deal has many other fine acts – Marnie Stern doing her gleeful 700-notes-per-second noise-rock avalanche thing (plus her drummer, Kid Millions, is awesome); Local Natives pounding through muscular, harmony-drenched arena-indie jams; sugar-shock duo Icona Pop leading a quasi-dance party in another crowded room with a neon-drenched stage setup that looks like the ship from Prometheus, chanting in unison and complaining that there's not enough bass. But in the midst of this I sneak out to the Main (neé Emo's, or maybe it's still Emo's, I'm not an expert on Austin club politics) to take in the other early 2013 Album of the Year candidate: Tegan and Sara.
Yes. Tegan and Sara. Heartthrob is incredible. Go listen now. Synth-pop anthems for days. "It's like I'm in my own personal John Hughes movie," a friend raves. Tonight T&S open with a few old jams – "Walking With a Ghost" and "Back in Your Head" — but soon hit an even sweeter spot ofHeartthrob highlights, from the Roxette-worthy ballad "I Was a Fool" to the triumphant "I'm Not Your Hero," a pure adrenaline rush that renders the title suspect. They seem pretty damn heroic to me. [Rob Harvilla]